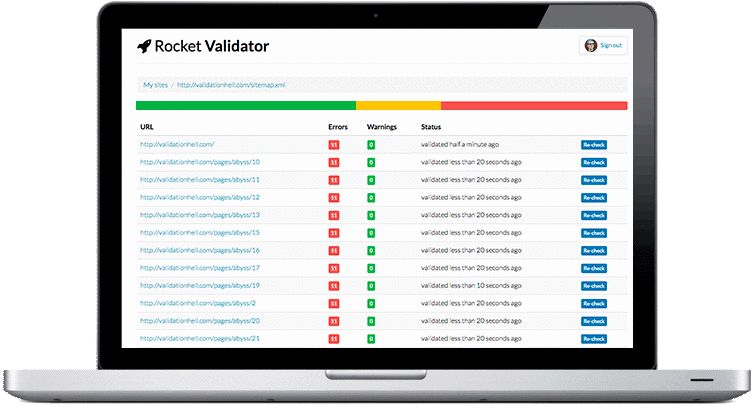 Blazing fast site validation.
Catch A11Y and HTML issues in your large sites, in seconds
As a professional web developer, you take accessibility and HTML markup validation seriously. As part of your development process, you validate your site at the W3C Validator or use tools like aXe core to ensure that your sites are accessible. But validating a large site with hundreds or thousands of pages would take ages, so you're tempted to skip it.
Let our crawler do this for you! Just submit a starting URL and we'll validate all the internal pages for you. As simple as that.
Since our launch, our users have validated 380000 web pages, catched 1860000 HTML issues and 30000 accessibility violations.
Just give us a starting URL and we'll visit it to discover its internal pages, validate each of them using the latest versions of the W3C Validator and the axe-core accessibility engine, and produce a detailed report in seconds.
---
Validate

large sites

Our web spider will crawl your site and check up to 5,000 pages for HTML5 conformance and accessibility, using the latest validation software, with a single click.

You can also submit an XML sitemap to specify exactly the pages to validate.
Accessibility

testing

For each accessibility violation found in your site we'll provide a description of the issue, a snippet of the code that's causing it, information about its severity and which guidelines are being violated (e.g. WCAG 2.0, Section 508, etc.), and guidelines for fixing the issue.
HTML

validation

Your pages will be checked for HTML markup conformance with the Nu HTML Checker, a project maintained by the W3C that is the backend of validator.w3.org/nu. You'll get a description of the issue, its severity and a snippet of the code where it's found, with direct links to your source code.
---
What our users say...
Web studios and freelance developers from all around the world use Rocket Validator to validate HTML on their sites as part of their web development process. Our service helps them quickly identify the parts of their sites that need more attention, so they can be fixed and re-checked until they're valid.
---