Digital accessibility
monitoring
for busy developers
Find Accessibility and HTML issues in your large sites, in seconds.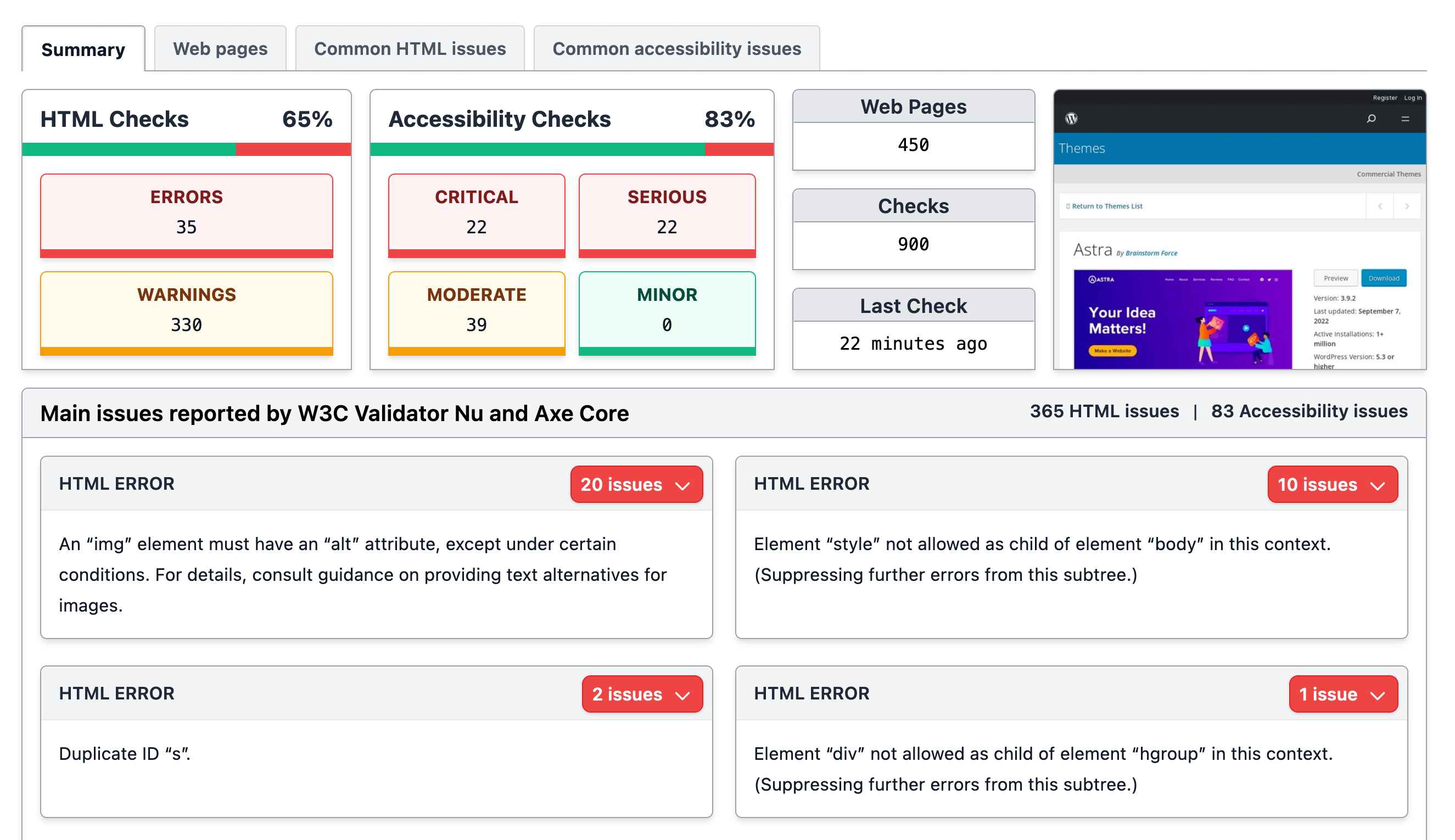 Site-wide validation made easy
Unleash the power of automated validations on your site.
Just enter a starting URL and let our web spider do the hard work for you.
Lightning-fast site validation

Our web spider will crawl your site and check up to 5,000 pages for accessibility and HTML5 conformance, with a single click.

Accessibility scanner

We'll scan the web pages found within your site in search of accessibility violations using the axe-core accessibility engine.

HTML validation

Your pages will be checked for HTML markup validation with the W3C's Nu HTML Checker, like in validator.w3.org/nu.

Scheduled monitoring

Schedule your site reports. Just enter the starting URL, how many pages to check, and how often you want us to check.

Deploy hooks

You can easily connect your site with Rocket Validator, so an automated site validation is started when you deploy your site.

API integration

Easily integrate your site validation reports into your existing projects using the intuitive Rocket Validator JSON API.

Device viewport emulation

Check for accessibility issues on multiple device resolutions from a list of popular devices like iPad Mini, iPhone 11, iPhone 11 Pro Max, and more.

Share reports with your team

Collaborate with your team by sharing your site validation reports, domain stats, or invite guest users to generate reports in your account.
Rocket Validator in numbers
Web developers worldwide are using Rocket Validator
to accelerate their digital testing process.
Site reports
Generated by our users
Web pages
Found by our scraper
HTML issues
Reported by W3C Validator
Accessibility issues
Reported by Axe Core
One click, thousands of checks
When you maintain a large site, manually checking each single web page for accessibility and HTML issues is just not an option.
For a typical site with 1,000 web pages, individually validating each page on the W3C Validator and Deque Axe Core means making 2,000 individual checks. If it takes you 5 seconds to perform each check, this means almost 3 hours just to get the results!
There's a much simpler approach. Leave the hard work to our web spider.
Just give as a starting URL, and we'll check as many web pages as you want. You control the number of pages to check, the validation speed and the kind of checks you want to perform on each web page found.
Test your sites at different screen resolutions
Because your sites don't look the same on a laptop, an iPhone, a Kindle Fire, or a Galaxy Note, they can have different issues at different screen resolutions.
Now with Device Viewport Emulation you can choose from a list of popular devices to emulate their screen resolution, device scale factor, User Agent string and orientation.
Currently supported devices:
Galaxy Note 3

(

360x640

, DPR 3)

iPad Air

(

820x1180

, DPR 2)

iPad Mini

(

768x1024

, DPR 2)

iPad Pro 11

(

834x1194

, DPR 2)

iPad Pro 12.9

(

1024x1366

, DPR 2)

iPhone 11

(

414x828

, DPR 2)

iPhone 11 Pro Max

(

414x896

, DPR 3)

iPhone 12/13 Mini

(

375x812

, DPR 3)

iPhone 12/13 Pro

(

390x844

, DPR 3)

iPhone 12/13 Pro Max

(

428x926

, DPR 3)

iPhone SE

(

320x568

, DPR 2)

Kindle Fire HDX

(

800x1280

, DPR 2)

Laptop with HiDPI screen

(

1440x900

, DPR 2)

Laptop with MDPI screen

(

1280x800

, DPR 1)

Lumia 950

(

360x640

, DPR 4)
Check the full list of supported devices in Rocket Validator.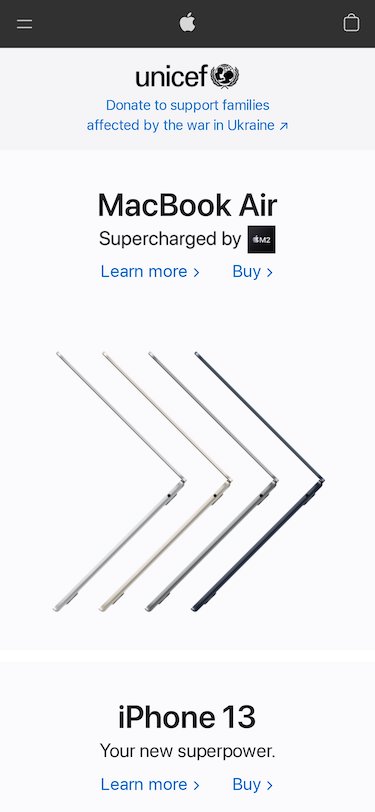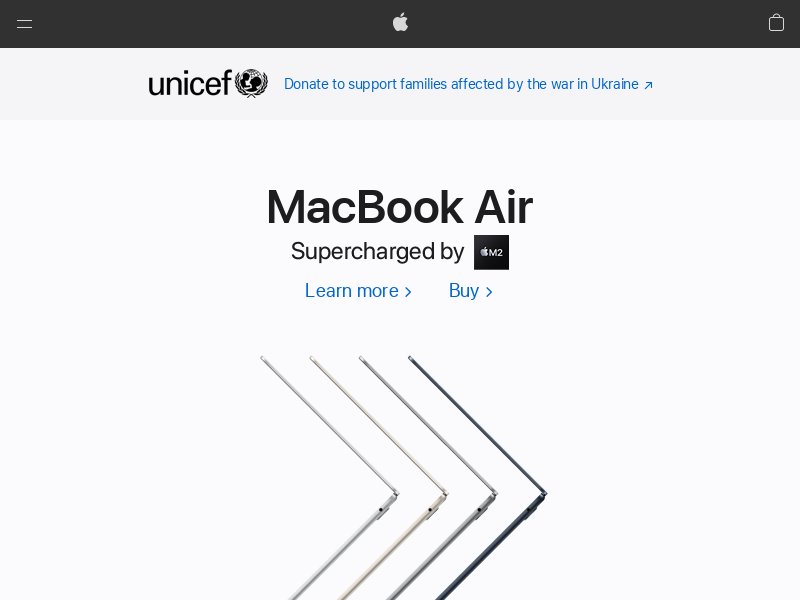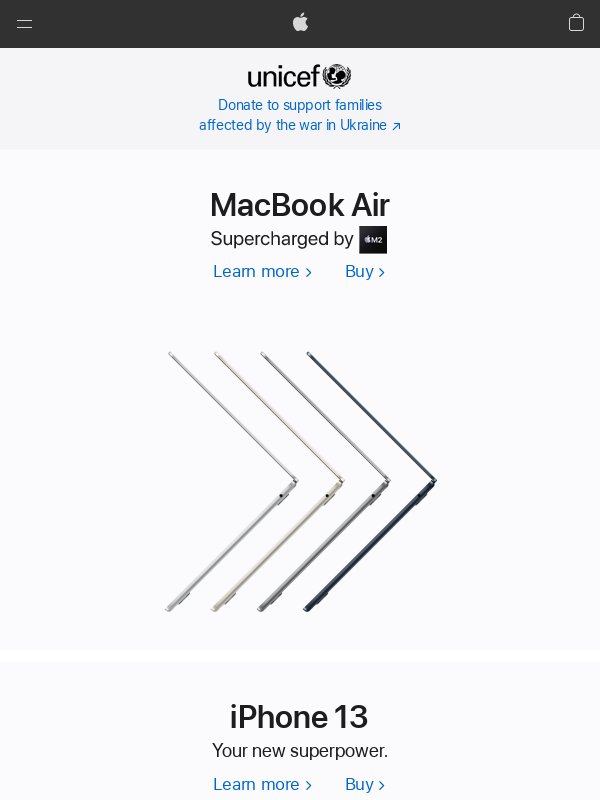 Simple, actionable reports
Having thousands of validation results for individual web pages is a lot of noise, unless you can group and prioritize it.
When you check different web pages on the same site, you typically get the same validation results over and over, because they share the same layouts and content widgets.
By grouping the common errors you get a high level overview of the most important issues and see a clear path of action.
Our summary reports will quickly show what needs to be fixed first, by grouping together and prioritizing the common issues on your web pages.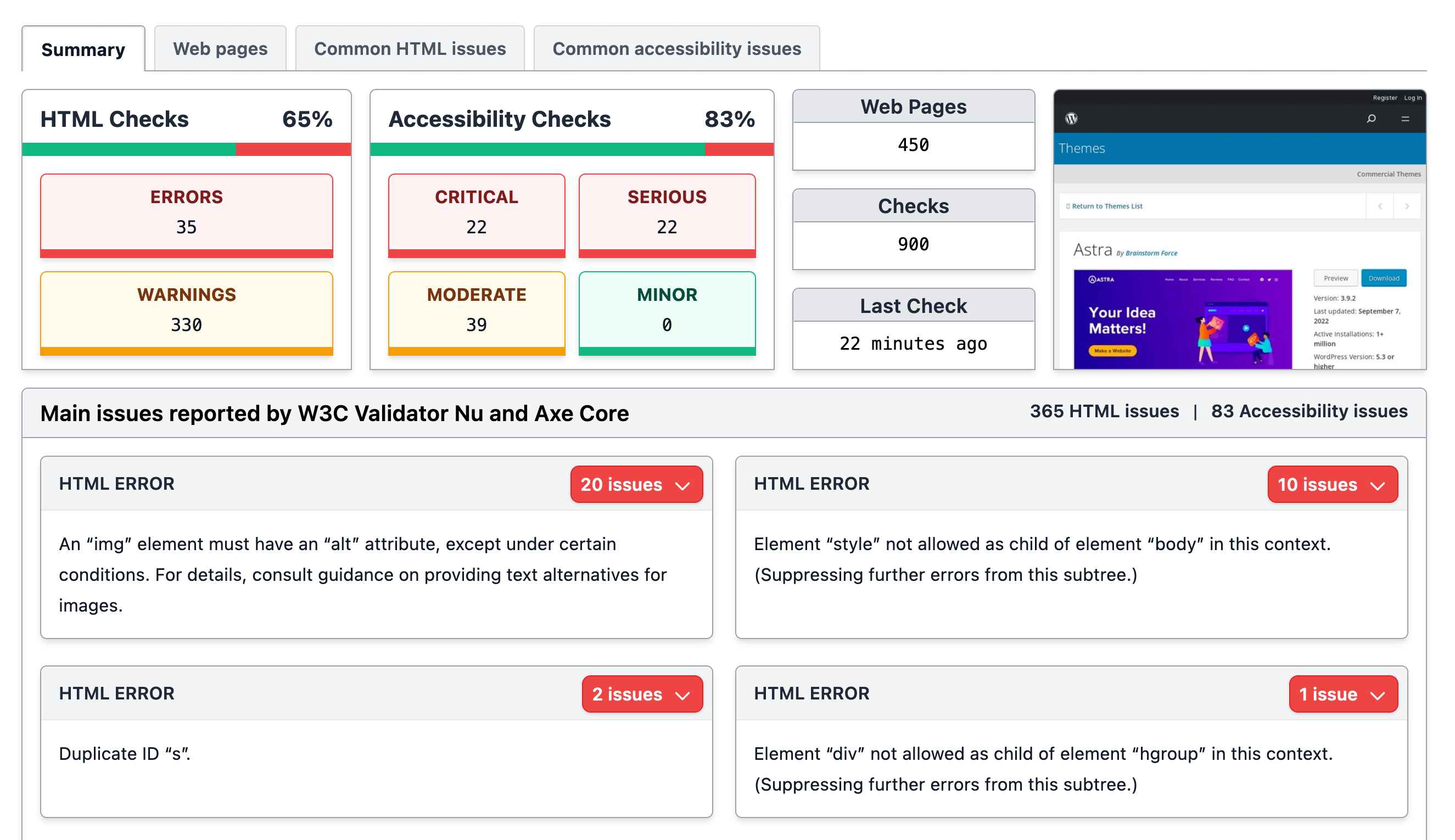 Validated by current standards
Rocket Validator checks each page found in your site using the latest versions of the most popular HTML and Accessibility checkers used by professional developers worldwide. We host our own validation servers, to ensure your checks will not be blocked due to high usage.

Using the W3C Markup Validation Service , hosted in our dedicated servers, we guarantee your web pages are checked against the latest standards.
Chosen by Microsoft, Google, development and testing teams everywhere, axe is the World's leading digital accessibility toolkit.
Continuous validation
Set up continuous monitoring for your web sites with a daily, weekly or monthly schedule , and we'll automatically run the reports for you and send the results to your inbox.
Deploy hooks let you automatically trigger a site validation report after each deployment to your hosting provider. Easily integrate with Netlify, Heroku, GitHub Pages and many more.
What developers say
Web developers worldwide have integrated Rocket Validator
into their digital testing workflow.
Frequently asked questions
How much does it cost?
Check out our pricing page for details, there is a subscription plan for your needs. You can choose between a Basic plan (HTML checking only) or a Pro plan (HTML and Accessibility checking, plus schedules and muting rules). You can choose a weekly, monthly or yearly subscription.
Is there a free trial?
Yes, you can sign up for a free trial that will let you check up to 25 pages for HTML issues. Also, if you want to try all the features (accessibility validation, schedules, deploy hooks, muting) you can get Pro trial at a reduced price.
Can I cancel or change plans any time?
Yes, all plans work as recurring subscriptions: you decide if you want to renew weekly, monthly or yearly. You can cancel your subscription any time, and your subscription will be valid until its end date, you won't be charged after it ends.
Can I validate more than one site?
Yes, there is no limit on the number of sites or domains you can validate. The only limit is the total number of checks done during your subscription, for example the Pro Monthly plan lets you perform 50,000 checks per month.
Can I share reports with other people?
Yes, you can share your validation reports with anyone. Just send the protected URL to your clients or colleagues, and they'll be able to see the validation results just like you - but they won't be able to modify the report, only you can control this.
How long are reports stored?
Site validation reports are stored for 90 days on Pro subscriptions, and 30 days on Basic subscriptions. This gives you plenty of time to review and the issues, and generate new reports after that.
Ready to check your sites?

Start your trial today.